Axis Bank Gold Loan Key Features – Apply Now!
| | |
| --- | --- |
| Axis Bank Gold Loan Interest Rate | 7.10% per annum |
| Axis Bank Gold Loan Per Gram | Rate Per Gram Today is ₹ 5,255 |
| Axis Bank Gold Loan Amount | Up to Rs. 1 Crore (With Income Proof) |
| Axis Bank Gold Loan Processing Fee | 1.50% of the Principal Loan Amount |
| Axis Bank Gold Loan Prepayment Charges | 2%+GST (Within 3 Months), 0 (After 3 months) |
| Axis Bank Gold Loan Repayment Tenure | 3 Months to 24 Months |
| Axis Bank Gold Loan Repayment Scheme | Bullet Payment Scheme, Overdraft Scheme |
About Axis Bank Gold Loan
Axis Bank is one of the largest private sector banks. This Bank provides a gold loan at very low-interest rates. The process is very easy and hassle-free and very fewer documents are required. There is no need to show any income proof or any kind of salary slip. you just need to have gold. you can apply online for a gold loan on Magicloans.in . It is very simple to apply. There is no need to go to the bank. Since the bank is very trustworthy and reliable so we can easily trust the bank's policies and the security. There is no fear of fraud. The bank is taking all the responsibility for your gold assets. 
Axis Bank Interest Rate
Interest rate starts from 7.10% of the principal amount.

Bank will provide you up to Rs. 20 Lakhs Bank will accept gold in all forms with purity 18 karat to 22 karats.

You have to return back the amount of loan within 24 months.
Axis Bank Gold Loan Features
First of all, the Axis Bank doesn't accept gold in the form of gold bars, and gold coins.

The starting amount that can be provided to the customers is Rs. 1500 here and it can be extended up to one Crore.

Time for the disbursal of the loan is very less here. Therefore you will be able to get the amount of loan in your account within a few minutes.

It provides very tight security to the gold assets provided by the customers. So the customer's gold is kept under three-layer security. So there is no risk.

The noteworthy thing is, that there are no charges for the closure.

Axis Bank finance provides the facility of prepayment also, there are no penalty charges for this.

The customer can return the loan amount from 1 day to 36 months.
1% of the loan amount is charged as the processing fees. Most importantly there are no prepayment or part payment charges.
Besides, that service tax and other governmental tax charges will be applied.
Axis Bank Gold Loan Eligibility  
There are some conditions that the applicant should fulfill to get a gold loan. These  are written below

First of all, the age of the applicant should be more than 18 years and less than 75 years. He/she should be able to return the loan amount on time.

After that, the applicant should have gold in the form of coins/ jewelry/bricks. But the purity of the gold should be 18 karats to 24 karats.
Axis Bank Gold Loan Documentation
The process of documentation is very easy and simple.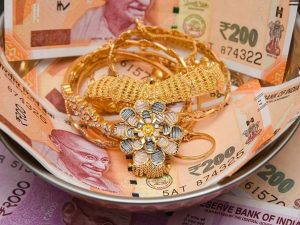 Identity proof (Passport/Id card/voter card/driving license) can be any one of them. 

Three passport size photographs are also required.

A passport acts as an ID proof because a passport has a name, age, address and photograph of the customer. If you are having a passport then there is no need to bring your address proof separately. 
Residence proof can be Aadhar card, voter card, and passport (Passport/Id card/voter card/driving license). Electricity and water bill for the last three months because these are the proofs that you are residing in that particular place.
Driving license can also be a proof of identity and residence proof because it contains the name, date of birth and a photograph of the customer. 
Aadhar card provided by UIDAI that contains biometric details of the customers like age date of birth and photograph of the individual.
PAN card is the permanent account number and it prevents the financial frauds. So it can be an identity/residence proof. Pan Card is a very essential document under KYC (know your customer) formality.

Ration card also can be a residence proof because it provides enough information about the applicant.

A signature proof is also required to get a Gold Loan.
Why Magicloans.in is an excellent platform to apply for a loan?
Here, we are to provide you with the loans, and here we are to offer loans and tell you why Magicloans.in is better than other websites.
Magicloans.in here values your time, and thus we provide you loans in a quicker period. There are many perks if you choose us over the other website:
To begin with, you will enjoy many benefits if you decide to take your gold loan from us

After that, you have to fill the gold Loan form, and you will receive a call from our relationship manager.

Besides this, more concessional rates will be provided to you besides all of the other facilities.

And there is no need to go to the bank.

Furthermore, your documents will be picked up from your doorstep.
Features
First of all, Know your gold loan eligibility in 1 minute, available online and across all branches.

After that, Highly competitive interest rates for gold loans.

Besides that, Special offers, interest rates and nominal charges for Axis Bank account holders.

And Special gold loan offers* for women employees.
Benefits
First of all, Simple documentation

After that, Competitive pricing

Besides that, gold loan disbursal is very quick.

And Transparent procedure

Gold loans available for Marriage and other Personal Needs.
How to Apply on magicloans.in?
To begin with, you have to look up for magicloans.in on google.

Thereafter, a form will open up and you have to fill-up the form with the appropriate information.

You will get more information from us following that.

Search for magicloans.in on google
Gold Loan Interest Rate of Major Banks